« Back to Team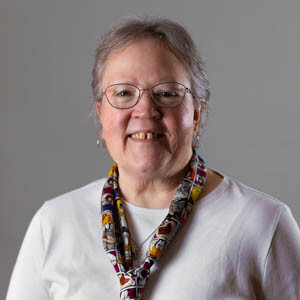 Laura Doud
Receptionist
office: 503-452-9375
Howdy, I'm the friendly voice on the other end of the phone when you call the church office. I'm a small town girl who has lived for four decades in the "big city" of Portland. When I moved to Portland to take a job at the Oregonian, I would have never dreamed I would meet my husband, Stan, and find myself helping to launch a church called Greater Portland Bible Church. And who would have thought we'd still be here after launching in a funeral home chapel!?!
Stan and I love GPBC because this is where we have met our closest friends over the last few decades and where many of those close friends still are. In fact, it was one of those friends who got me to the summit of Mount Hood a long, long time ago! We are also happy to count our son, Matt, as part of the GPBC family.
Besides being all "receptiony" in the office during the week, I work in the Coffee Corner on Sundays, waking people up one shot of espresso at a time. (The preaching team should really thank us.) When not hanging with our church family, Stan and I like to take cruises and play games with good friends.
Hobbies/Interests: Counted cross-stich, knitting, scrapbooking, reading, watching old movies and TV shows