The Pantry of Greater Portland is an ongoing food assistance ministry operating on Saturdays at Greater Portland Bible Church. Food is sourced primarily from three local supermarkets who generously set aside and donate meat, vegetables, dairy products, bread, frozen items and other non-canned goods. Anyone is welcome to come and shop for food, especially those who have a need.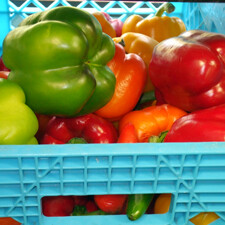 Saturdays
1:30-2:30pm
Main Church Entrance
Janice Fry-Director
Shopping Information
Food is collected during the week from three local supermarkets and distributed on Saturday at 1:30pm. When shoppers arrive at 1:30pm they are given a numbered ticket. Shoppers line up in the order of their ticket number. Five shoppers enter the Pantry at a time where volunteers help them move through the Pantry choosing foods they would like. Volunteers let shoppers know how much each family will be able to pick up that day based on current inventories. The Pantry contains meats, frozen items, vegetables, fruits, breads, dessert, eggs, dairy products and flowers. Grocery items and quantities vary from week to week. Therefore, the quantity of groceries given out each week varies. If you forget to bring your reusable bags, boxes are available for you to use to carry your groceries home.
Volunteer Information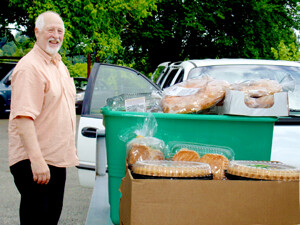 We serve more than 50 families a week with our Saturday food pantry. Do you have a heart for serving in a practical and life-giving way? We need volunteers to sort food, hand it out, clean-up afterwards, or simply smile and warmly welcome each who come through our doors.
We have four teams that volunteer together one Saturday per month to operate The Pantry. Positions on these teams are available in varying commitments of time ranging between 2-3.5 hours and run between the hours of 11am-2:30pm. Volunteer positions could include sorting and storing incoming food from participating grocers, setting up for the food distribution, and helping our guests receive food and our encouragement. Join this dynamic and growing ministry by contacting Janice at or by calling the church office, 503.452.9375.
Thank You Donors!
We would like to extend our deepest appreciation to the following grocers for their generosity and partnership in providing the food resources that make the Pantry of Greater Portland possible:
Trader Joe's (15391 SW Bangy Rd, Lake Oswego, OR 97035)
WinCo Foods (7500 Dartmouth Rd, Tigard, OR 97223)
Fred Meyer (11565 SW Pacific Hwy, Portland, OR 97223)
Panera Bread (10230 SW Washington Square Rd, Tigard, OR 97223)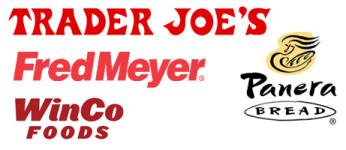 If you are a grocer and would like information about donating to the Pantry of Greater Portland, please contact Janice Fry, Pantry Director, at . Thank you!
Donations
If you would like to make a donation to support The Pantry of Greater Portland, click the button below, and instead of the default Tithe/Offering fund, select "Benevolence Food Pantry" on the drop down menu.
GIVE TO THE PANTRY