2022 Campout!
Friday, August 5, through Sunday, August 7, 2022
We hope young and old, veterans and newbies will all plan on camping together with the church family at Barton Park along the Clackamas River in 2022. Join us on this summer trip to get sticky from 'smores, slap mosquitoes, and reveal your bedhead. You choose whether you pitch a tent and cook over the fire or bring your RV and plug in the microwave!
Cost: $90/site for the weekend. Register online here or come find us in the lobby on Sunday.
Click HERE to view available campsites. There are currently only 4 sites left!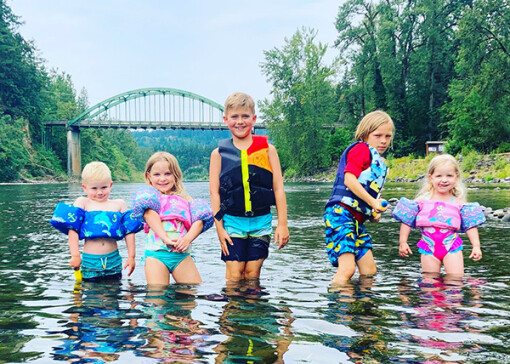 Not a camper? No problem! Join us for the day on Saturday!

The Saturday activities are always great fun, so even if you can't be there all weekend, join us for the day! Here's the tentative schedule for the weekend.
GPBC 2022 Campout Schedule
Friday, August 5
3:00PM Sites become available
7:00PM Table games, bingo @ common area (site #13) Cornhole open play – play field
8:30PM Cornhole competition - 1st round – play field
10:00PM Noise curfew

Saturday, August 6 (Day visitor fee=$8, plus $5 if you plan to stay for the potluck)
7:00AM Coffee & Tea – Common Area (site 13)
9:00AM Cornhole competition 2nd round – play field
10:00AM Children's games – play field
10:00AM-11:00AM Women's Meetup – Anderson's site (#14) Drop in any time during the hour
11:00AM Volleyball game – play field
12:00PM Floatation pump station open (Venue TBA, Check at Common area, site #13)
Floating the river begins **Information below
Horseshoes – play field Table games – common area (site 13)
5:00PM Potluck at Picnic Shelter #1: (Day campers, Bring: $5 for meat)
EVERYONE bring: side dish to share: Bring your own serving utensils, eating utensils, beverage, plate, etc.
6:30PM Worship at Picnic Shelter #1
8:00PM Cornhole competition 3rd round – play field
Table games – common area (site 13)
9:00PM Find Someone & Cornhole Awards - Common Area (site #13)
10:00PM Noise curfew

Sunday, August 7
7:00AM Coffee & Tea – Common area (site 13)
8:00AM Breakfast –Common area (site 13)
11:00AM Pack up to leave


2022 GPBC Campout Service Opportunities
Getting everything done requires a lot of helping hands. If everyone helps, even just a little, everybody can enjoy the weekend rather than being heavily burdened. Please sign up for an area of service. Thanks so much!
Here's a list of jobs still needing people:
Place name placards at campsites Friday afternoon
Head up river float transportation to and from flotation fill station
Help with river float transportation fill station
Assist with children's games
Head up horse shoes (competition?)
Friday night/Sunday morning: Help others with tent setup/teardown (4-6 helpers)
Friday afternoon: Help set up common area (4-6 helpers)
Sunday morning: Help tear down common area (4-6 helpers)
Make sure common area stays clean
Saturday: Help with potluck (6 helpers)--Pre-cook hotdogs/hamburgers, set up in Shelter #1, make sure shelter is clean afterwards
Sunday morning breakfast...calling all guys--Sunday morning breakfast is put on by all the guys to be of service to and honor the women in our lives
**GENERAL RIVER FLOAT INFO: Each person floating the Clackamas must bring their own equipment. Equipment required: inflatable flotation device, mandatory life jacket, and whistle. Additional recommended items: sunscreen, sunglasses, waterproof bag (for camera, phone, etc.), water bottle. Every participant will be on the river at the same time in groups of around eight. The float takes around three hours on reflective water. Flotation devices 10' and larger require a Waterway Access Permit. (A one-week permit is $5.00 + $2.00 application fee.)
Barton Park is located at 19009 SE Barton Park Road, Boring, OR 97009. You can find directions here.
For questions, contact: .