Men's Prayer Hour
Men...one hour...12 prayer focuses...one good God. We gather for one hour of impactful prayer together. We'll be going through 12 prayer focuses that cover all areas of our lives and our world. I think you'll find that this hour is an hour that changes you and the world around you.
Check back for the next date.
Men's Bible Study
A Study in Ecclesiastes
Begins April 13
Wednesdays 7 - 8:30am | Clackamas Room
The Book of Ecclesiastes was written by King Solomon, one of the most recognized names in human history. This book was written to answer the cry of the human heart for happiness and meaning in life. Although the book was written over 3000 years ago the message remains very contemporary. If anything, "life" itself may well be the most elusive thing that our world struggles with. The Apostle John wrote in the prologue of his Gospel about Jesus that "In Him was life, and the life was the light of men. And the light shone in the darkness; and the darkness did not comprehend it" (John 1:4-5). John recognized something about Jesus that even today baffles most of mankind. Man is unable to "comprehend," that is to grasp, to get hold of, so that one is unable to experience the happiness and satisfaction his heart hungers for. Solomon in his extraordinary wisdom was able to look deeply into the cry of our hearts and offer counsel to a world searching as he did.
Come join us Wednesday mornings for a deep examination of what Solomon experienced and has passed on to us today to help us in our life's journey.
Men of Service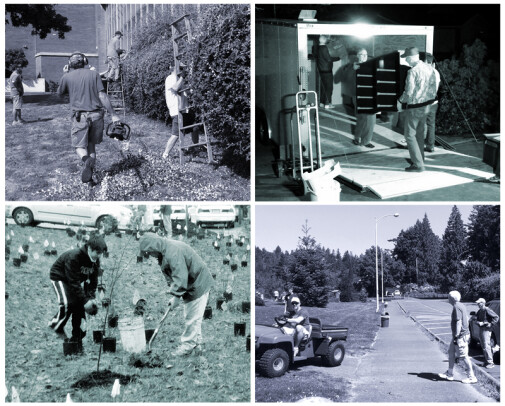 Are you a man of action? Do you have the spiritual gift of helps? Join other men who lead through service, responding to the real needs of our church and body in practical and hands-on ways. John Muirhead has a team of guys he calls up when needs arise. When available, those guys join him for projects ranging from helping a family move, to painting a classroom, to a maintenance project or yardwork. Typically, projects are scheduled on Saturday mornings, with only an occasional weekday evening. Text, call or email John and let him know you'd like to sweat in service to the King of kings at 503.806.4604 or .