Christmas. It starts with Jesus. It ends with Jesus. It's a season where love wins, peace reigns, and a king is celebrated with each breath. Or at least that's the way it should be. Somehow we lose our passion to worship Jesus fully amidst the commercialism and busyness that has sabotaged the season. Joining Advent Conspiracy is a decision to make this time about Jesus and no other. We commit to worship more fully. We pledge to spend less on gifts that hold no meaning and instead give of ourselves relationally. And love the way Jesus loved, by finding the poor, forgotten, overlooked and sick of our communities and joining Him in giving to help those who need it most. It's simple. It's transformational. It's Advent Conspiracy.
Advent Season Resources
Worship Fully Through Advent
Below are some recommended resources we hope you'll check out during the advent season to learn the freedom of worshiping with abandon, giving without comparison, receiving with gratitude and loving without limits. There are resources that can be used by individuals, families or even small groups. May you find the gift of God's presence this Advent Season.
Families with young children will love this advent resource! Countdown to Christmas with special ornaments you can collect from around the house or make as a craft. As you countdown, follow the kids-friendly devotions that include a scripture reading, a short lesson to go with each reading, a prayer idea, and a ornament symbol for each day.
An Advent Experience from InterVarsity Christian Fellowship that uses paintings, scripture, written reflections, questions, and guided prayer.
Devotionals written by Advent Conspiracy pastors and church leaders from around the world. Our prayer is that these scriptures will help you find time to worship fully this Advent. Daily Bible readings accompany each devotional.
This book gives individuals, families, and churches practical help in planning the kind of Christmas that truly can change the world. Revised and updated with new stories of the impact this movement has made around the globe.
This resource from John Piper contains 25 short devotional readings beginning December 1 and going through Christmas Day. This book of Advent meditations aims to put Jesus at the center of your holiday season.
The Love & Justice Church Advent Devotional is designed to help you, your family, and your small group re-live all of the longing and desire for the promised Messiah. This is a weekly devotional that begins the week of December 2 and contains five devotionals. Also includes suggested readings from The Jesus Storybook Bible for families.
Christmas Eve Giving
December 24 we come together under the glow of candlelight and the familiarity of the carols to remember and celebrate a Savior born to us, Emmanuel, God With Us.
We receive an offering that day that reflects our heart to devote less to the materialism of the season and instead invest in hope, love and peace. Our 2019 Advent Conspiracy projects are described below. Will you join the conspiracy?
Advent Conspiracy Giving Recipients 2019
Portland, Oregon
Neighborhood House: 19th Ave Homeless Family Program
https://nhpdx.org/family-housing-services/
Homelessess continues to affect thousands of people in our city. For those wanting to reach out compassionately to their homeless neighbor, the complex issues surrounding homelessness feels daunting. That's why we have reached out to a local partner who is already actively and effectively responding to this acute need.
Neighborhood House is an organization, based in Multnomah Village, who has been serving the SW Portland community for over 110 years! They provide many services, which include the largest food pantry in West Portland, a early childhood education program, and youth and senior services. Additionally, they are helping families thrive by helping them transition from homelessness to permanent housing and giving them the tools for life-long, self-sufficiency.
That life-changing transition away from housing insecurity is happening a mere two blocks from the entrance to Greater Portland. The 19th Avenue Apartments are where families, who are referred by the Multnomah County Coordinated Homeless Team, find a place to rebuild. Besides providing a safe and secure place to call home for up to two years, the program includes a family case manager who walks the road to permanent housing with them, adult education and literacy where helpful, and employment assistance.
$1200 provides the resources that Neighborhood House needs to support one family's rent and client assistance for one month. Let's see how many families we can help get on their feet this December!
Amman, Jordan
Whitman Academy
Jordan lies in the center of a Middle Eastern region that has seen years of conflict. Syria, which lies to it's north, shares a 233 mile border, and, since the conflict started, Jordan has seen it's population rise by 10% as Syrian refugees have flooded across the border seeking refuge from the violence. Jordan has become a secure base of operations and a safe place to live for NGO and Christian agencies who are serving and ministering in Jordan, Syria, and Iraq. It is uniquely situated to radically meet the needs of hundreds of thousands of hurting people.
For any NGO, business, or missionary family serving in war-torn places, they need to know their children are safe and provided for if they are going to be able to stay in-country and serve where God has called them. Whitman Academy is one such place. This school, founded in 1994 by four Christian worker families, provides quality education and Christian discipleship to 185 students from over 20 different nationalities, enabling their parents to remain confidently in place serving the needs around them. This includes children from our very own Global Partners serving in the Middle East.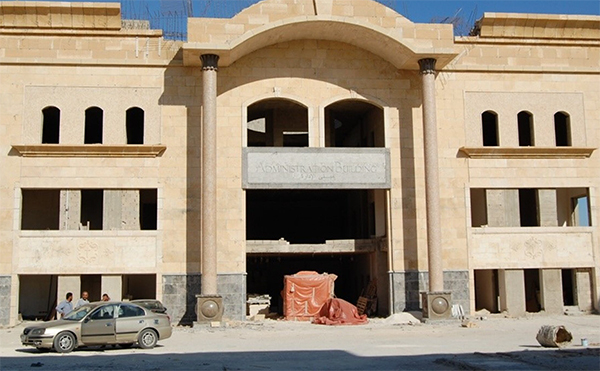 Whitman Academy has outgrown their existing location and have the opportunity to move into a new, larger building that is partially constructed, on the grounds of a local seminary. If they can finish construction on the building, they will be able to allow 100 more students to attend, thereby serving that many more families who:
work with refugees, directly reaching out to over 7,500 displaced Syrians and Iraqi's.
minister to the poor and spiritually needy through medical clinics, English centers, church ministries, discipleship
travel to neighboring, war-torn countries to help disciple and establish believers
Can we join them in service to these people through our Advent Conspiracy offering in support of Whitman Academy? Our gift can help provide for the following needs:
Student desks: 20-25 per classroom @ $70 each
Student chairs: 20-25 per classroom @ $30 each
Windows: 25 small @ $150 each
Windows: 15 medium @ $500 each
Windows: 25 large @ $1,500 each
**Make donations out to GPBC and designate "Advent Conspiracy" in the memo line. (Gifts may not be directed to specific projects.) Gifts may be submitted prior to the Christmas Eve offering or through mid January. Gifts may also be made online anytime. Just choose "Advent Conspiracy Donation" on the drop down menu.